Building trust is a formidable but achievable challenge with a novel ingredient introduction. The earlier in the cycle that steps are taken, the higher the odds of connecting with the consumer.
by Erin DeSimone, MS, RD, LDN, FAND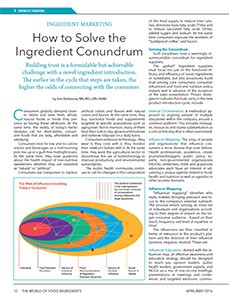 Consumers globally demand cleaner labels and seek fresh, whole, natural foods or foods they perceive as having these attributes. At the same time, the reality of today's hectic lifestyles call for shelf-stable, convenient foods that are tasty, affordable and satisfying.
Consumers look for low and no calorie snacks and beverages as a mid-morning pick-me-up or a guilt-free midnight snack. At the same time, they raise questions about the health impact of non-nutritive sweeteners, whether they are classified as "natural" or "artificial."
Consumers ask companies to replace artificial colors and flavors with natural colors and flavors. At the same time, they buy functional foods and supplements targeted at specific populations such as aging men. Not to mention, many of them treat their kids to day-glow marshmallows and rainbow lollipops on a daily basis.
Consumers embrace technology — they wear it, they cook with it, they monitor their newborn babies with it. At the same time, they want the agricultural sector to discontinue the use of biotechnology to improve productivity and environmental sustainability.
The public health community continues to call for changes in the composition of the food supply to reduce total calories, eliminate trans fatty acids (TFAs) and to reduce saturated fatty acids (SFAs), added sugars and sodium. At the same time consumers espouse the wonders of "bulletproof coffee" and bacon.
Solving the Conundrum
Such paradoxes raise a seemingly insurmountable conundrum for ingredient suppliers.
The upshot? Ingredient suppliers must focus not just on the functional efficacy and efficiency of novel ingredients or substitutes, but also proactively build trust among core consumers, consumer influencers and food and nutrition policy makers well in advance of the inception of the sales presentation. Proven strategies to cultivate this trust, early in the new product introduction cycle, include:
Internal Orchestration: A methodical approach to aligning people of multiple disciplines within the company around a common platform. This includes messages, resources and claims substantiation as a critical first step that is often overlooked.
Influencer Mapping: The array of people and organizations that influence consumers is more diverse than ever before. Health professionals, academics, citizen journalists/bloggers, public policy experts, non-governmental organizations (NGOs), celebrities, chefs and grassroots advocates each have an interest in advancing a unique agenda related to food, health and nutrition as well as agendas in other societal domains.
"Influencer mapping" identifies who really matters, bringing precision and focus to the company's external outreach. The process entails ranking an initial list of individuals and organizations according to their degree of impact on the target consumer audience — based on their reach, frequency and level of expertise or clout.
The influencers are then classified in terms of relevance to the product's platform and the direction of their influence (positive, negative, neutral). These are:
Influencer Education: Armed with the influencer map, an effective awareness and education strategy should be designed to reach key opinion leaders, public health leaders, government experts, and NGOs via a mix of one-on-one briefings, presentations at meetings and conferences and targeted electronic communications. Some of these individuals and groups can eventually be cultivated as advisors or third-party advocates, and others will simply be less inclined to criticize.
Regulator Relationships: As the Scientific & Regulatory Affairs Department secures health claims and labeling regimes, there is a parallel opportunity to personally brief key regulators to ensure they have the context needed to formally and informally address the benefits of the novel ingredient.
Third-Party Partnerships: Whether it's with a voluntary health organization like the American Heart Association, a charity like Together for Mental Wellbeing in the UK, or a local community wellness initiative, partnering with a respected organization through sponsorship or a jointly-executed public service campaign is a tried-and-true approach to generating goodwill among the public and further educating influencers.
Tate & Lyle recently took this approach to educating key influencers in the US in conjunction with a novel ingredient launch. Because many of the product's applications will likely be of interest to people with diabetes, T&L partnered with the American Association of Diabetes Educators (AADE) to host educational webinars for its members. T&L exhibited at AADE's annual meeting and held a "Product Showcase" which was a 60-minute presentation about how to talk to patients/clients about the ingredient. And, to provide a new tool for AADE members to bring to their patients, T&L and AADE co-developed a "Goal Tracker" app that is designed to help diabetics track their sugar intake using scanner technology.
Industry Allies: Don't forget to tap the resources and communication networks of industry associations and alliances, such as the International Food Information Council — an industry-funded group in the US that communicates science-based information on health, nutrition and food safety.
Advisory Board Consultation: The objectives and activities of each Advisory Board will vary, but generally it's a small group of experts that serves as a sounding board to provide objective input on plans before they launch in order to prevent major missteps.
Activation of Advocates: Only certain influencers will step up as champions for a novel ingredient or technology application, how it works and what it offers to consumers. The aforementioned activities will help identify and cultivate those individuals.
Real-Time Response: Given the many negative themes that have become attached to traditional and novel ingredients, the need to respond to questions and criticism in a reassuring, accurate and proactive manner has never been greater. An effective monitoring and response mechanism will cover both traditional and social media.
Consumer Connection: One of the most challenging and important decisions to make at this juncture is whether to create a consumer-facing brand for the novel ingredient. Today, ingredient suppliers need to be as knowledgeable about the end consumer as branded food manufacturers are, to carefully weigh the advantages and disadvantages of a branded versus an unbranded platform and to sell the ingredient to manufacturers.
Building Successful Partnerships
Providing consumer friendly content on the benefits of an ingredient is critical to building successful partnerships with manufacturers, according to Tom Druke, Strategic Marketing Manager with Balchem Corporation. In the case of Balchem's VitaCholine, the brand website, (www.vitacholine.com), provides a simple overview of choline's benefits and allows both consumer and customer to probe deeper by accessing additional materials, links and scientific research.
For ingredient suppliers, the challenges are many but the rewards are great. As companies look for ways to leapfrog the competition in the global marketplace, it's heartening to know that the right novel ingredient, introduced to the right people at the right time, can have a genuine ability to make the world a better and healthier place.