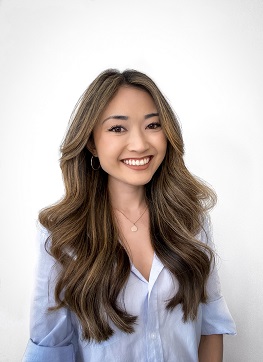 The FoodMinds upwaRD program is an industry-leading professional recognition and development program, elevating the voices of emerging nutrition communication leaders. This year's winners were selected for their expertise in translating evidence-based nutrition recommendations into exciting, engaging and accessible content in both traditional and social media channels.
 Today, we hear from Kylie Sakaida, MS, RD, LDN one of the 2021 upwaRD winners!
1. What platform or medium do you think is especially powerful for nutrition education today and why?
Many people, especially younger users, now prefer short-form video content on platforms like TikTok, Instagram Reels, Snapchat Spotlight and Youtube Shorts.  I believe that short-form video content pushes creators to be more creative and engaging while allowing users to absorb and consume more information.  I'm very excited to see how nutrition educators and dietitians adapt to this demand.
2. What kinds of messages are you passionate about sharing?
I'm very passionate about sharing realistic nutrition and health information.  Often times, people feel very overwhelmed when they're told they have to meal prep all their lunches and cook elaborate, healthy meals every night.  I hope to show people that you don't need to eat a 100% organic, perfect diet free of all processed foods in order to have a balanced diet.
3. What's the nutrition question you hear most often from your clients or followers?
My most asked nutrition question is always "how do I lose weight?".  Though everyone is different and can benefit from different approaches, I always find it helpful for people to focus on "adding rather than subtracting".  In other words, I always recommend that people focus on adding foods they may not eat enough of (e.g. vegetables, fruits, etc.) instead of restricting foods they may be eating too much of (e.g. processed foods, sugar-sweetened beverages, etc.).  By doing this, it encourages people to find sustainable ways to increase their consumption of nutritious foods in their diet without the unsustainable and restrictive mindset of typical dieting.
4. Where can people find you?
For realistic and fun nutrition tips and easy recipes, you can find me (@nutritionbykylie) on TikTok, Instagram, and YouTube.