The FoodMinds monitoring committee put together a trends report from the beginning of the year. There were five prominent trends that they noticed, as well as some trending words that showed up a lot throughout different platforms. Read our trend report below.
Trend 1: Retailers Battle to Create the Supermarket of the Future
               Ecommerce offers consumers time-saving and convenience beyond brick and mortar capabilities; thus, retailers could enhance the shopping experience with in-store offerings not replicable online.
Trend 2: Transparency Trending as Companies Evolve Values
               Companies continue to pivot their purposes to promote consumer trust and align with good practice.
Trend 3: New Product Trends: Plant-Based, Organic and Purpose -Driven
               Research found 60 percent of customers make socially conscious buying decisions and 83 percent of customers say that buying from a sustainable company is important. The power of plant-based food is trending and it doesn't seem to be letting up anytime soon, a shift from the part where consumers were primarily concerned with product quality.
Trend 4: What's Good for Business is Softer for the Environment
The progress food companies are making in food sustainability raises two issues to watch for in the future, 1) How will success be defined and compared across varying company commitments, and 2) What does this mean for ingredients sourcing and farm capacity?
Trend 5: The Political Roundup: Surprising Progress in Advancing Nutrition Policies, Not Without Some Opposition          
               Several questions on the new rulings still need to be worked out.
What's the Word?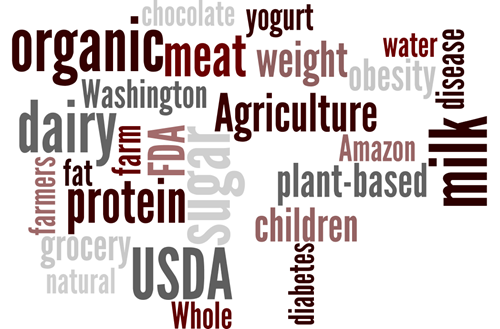 Our Voice:
"With more and more consumers turning to online retailers for shelf-stable grocery goods, supermarkets are taking a closer look at how they can become more competitive in fresh category sales, like produce, in their brick-and-mortar stores. Produce at retail is a huge, profitable and growing category and has the power to drive customer loyalty at the store level. The Food Marketing Institute recently released their third annual report, "The Power of Produce" which took an in-depth look at trends in consumer purchasing and consumption of fruits and vegetables. Among the findings, the report identified that in addition to price and promotions, shoppers are also interested appearance, quality (local, organic, etc.), variety and tips for using less common fruits and vegetables." – Amari Thomsen, MS, RD, LDN
Download the Trend Report here