Record-setting sales[i] [ii] of fresh and prepared foods during initial weeks of the COVID-19 crisis have been impacting food availability. Now barren shelves and limited supply may be inhibiting consumers' ability to purchase foods. In addition, some food industry stakeholders have voiced concerns that consumers may be avoiding certain foods due to misperceived health and safety issues.
Earlier this month, FoodMinds Strategic Insights, in conjunction with our fieldwork partner, Savanta, fielded an online survey among 504 US consumers[iii] to identify the proportion of consumers who claim to be avoiding foods and beverages during the COVID-19 pandemic.  The study aimed to gain an understanding of the types of foods or beverages consumers claim to be avoiding and determine their rationale for these changes.
Recognizing that consumers' actions often differ from their reported behaviors, we also referenced IRI's public reports on US consumer food purchases through the week ending April 5, 2020 and POS Data through the week ending March 29, 2020.
While most consumers report they continue to make their typical food purchases, the survey indicates that nearly one in three (30%) consumers claim to be avoiding purchase and consumption of a "normally consumed" food or beverage during the COVID-19 crisis. Among this group of "avoiders", many claim to be holding off on a range of items:
Produce (26%)
Meat (15%)
Soda (14%)
Baked goods (9%)
Alcohol (6%)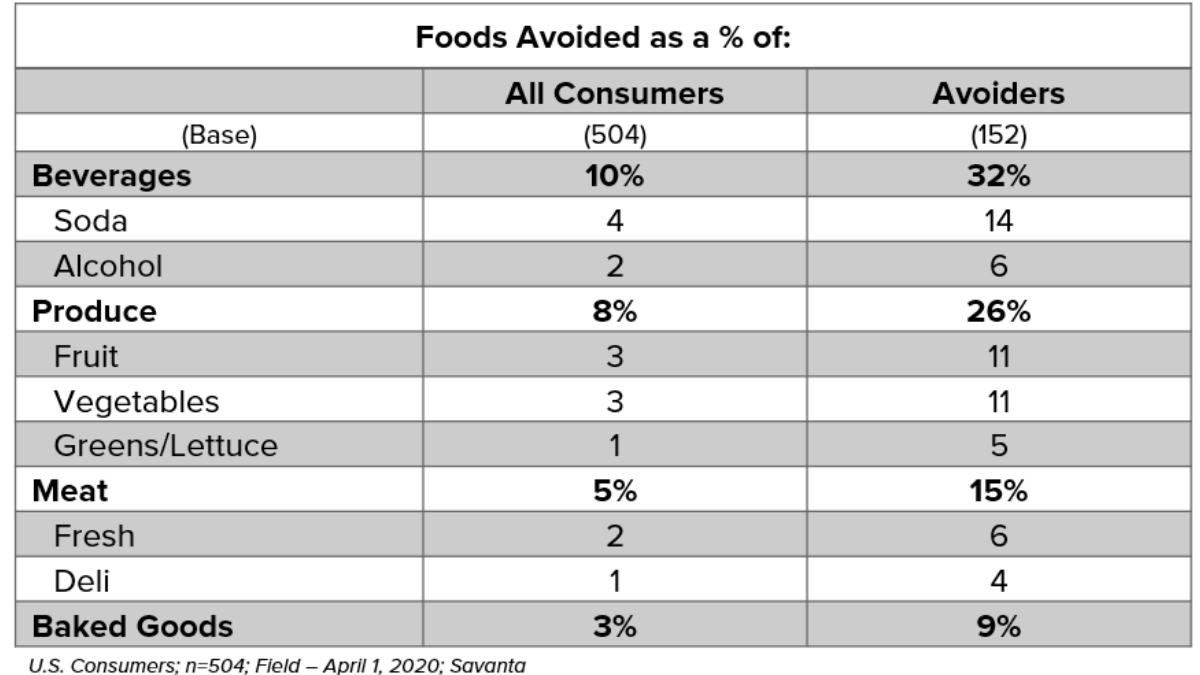 Common reasons for avoidance include concerns with "handled foods," avoidance of empty calories, and financial pressures. However, when the online survey responses are evaluated within the context of IRI's sales transaction data, it appears that these claimed avoidance behaviors are overstated, or represent such a small proportion of consumers that they do not seem to be impacting actual purchase behaviors.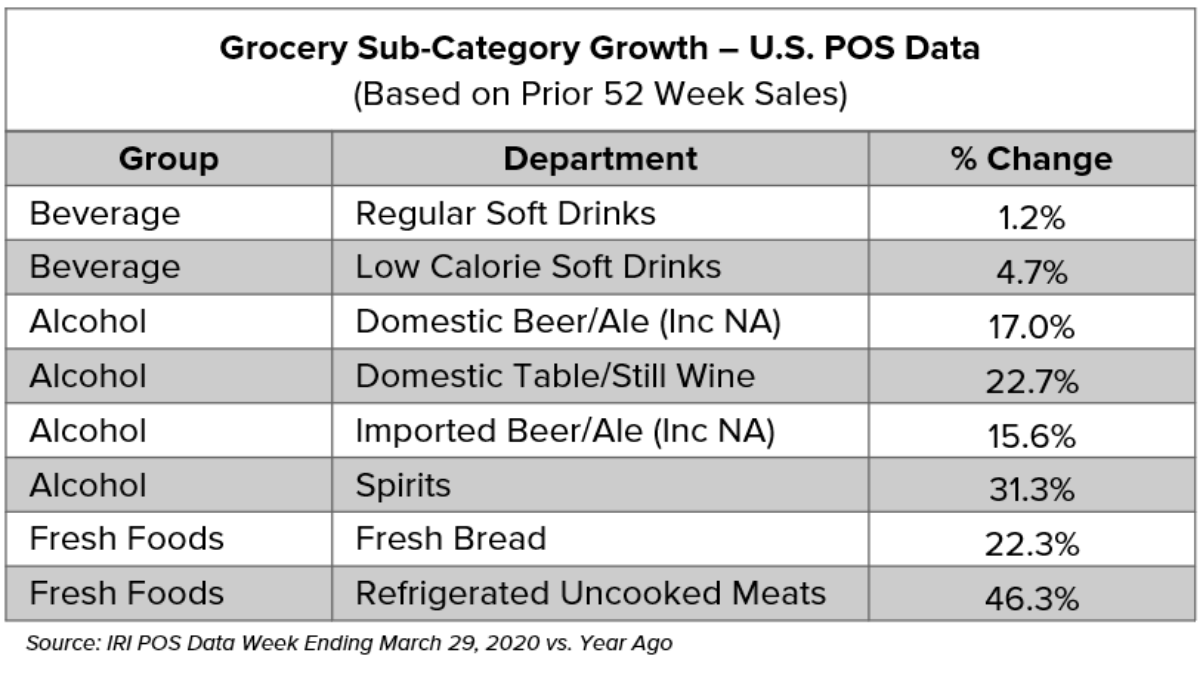 Although consumers claim to be avoiding alcoholic beverages, soft drinks, certain produce items and baked goods, all of these categories exhibit strong increases in sales during the most recent available US store level purchase data through March 29, 2020 and April 5, 2020[i] [ii] – a good reminder of the inherent limitations of self-reported data and the all-too-human dissonance between beliefs and behaviors.
Our advice to help food industry stakeholders navigate the gap: stay smart and focused on the long-term, while recognizing challenges consumers are facing related to safety and availability.
Using our own internal data, and external reports, FoodMinds Strategic Insights will continue to monitor the impact of consumers' food perceptions and food behaviors during the COVID-19 event. [email protected] to learn more.
You may be interested in additional posts related to this topic.
Grant Prentice is a Senior Vice President and Rebecka Palmquist, RD is a Senior Analyst in Strategic Insights at FoodMinds, a division of Padilla. They are both based in Chicago.
[i] Iri. (2020, April 10). Consumer Spending Tracker for Measured Channels. U.S., UK, France, Italy, Germany, NZ. Retrieved April 14, 2020, from https://www.iriworldwide.com/iri/media/library/2020-04-10-iri-bcg-covid-global-consumer-spend-tracker.pdf
[ii] Roerink, A.-M. (2020, April 14). Fresh fruit retail sales growth rebounded to an increase of 7.4%. Retrieved April 14, 2020, from https://www.freshplaza.com/article/9208112/fresh-fruit-retail-sales-growth-rebounded-to-an-increase-of-7-4/
[iii] FoodMinds Strategic Insights. (2020, April). Perspective on the Impact of the COVID-19 Event on Consumer Food Perceptions and Behaviors: US Consumers' Claimed Avoidance of Foods and Beverages vs. Recent Trends in Grocery Purchase Behaviors.