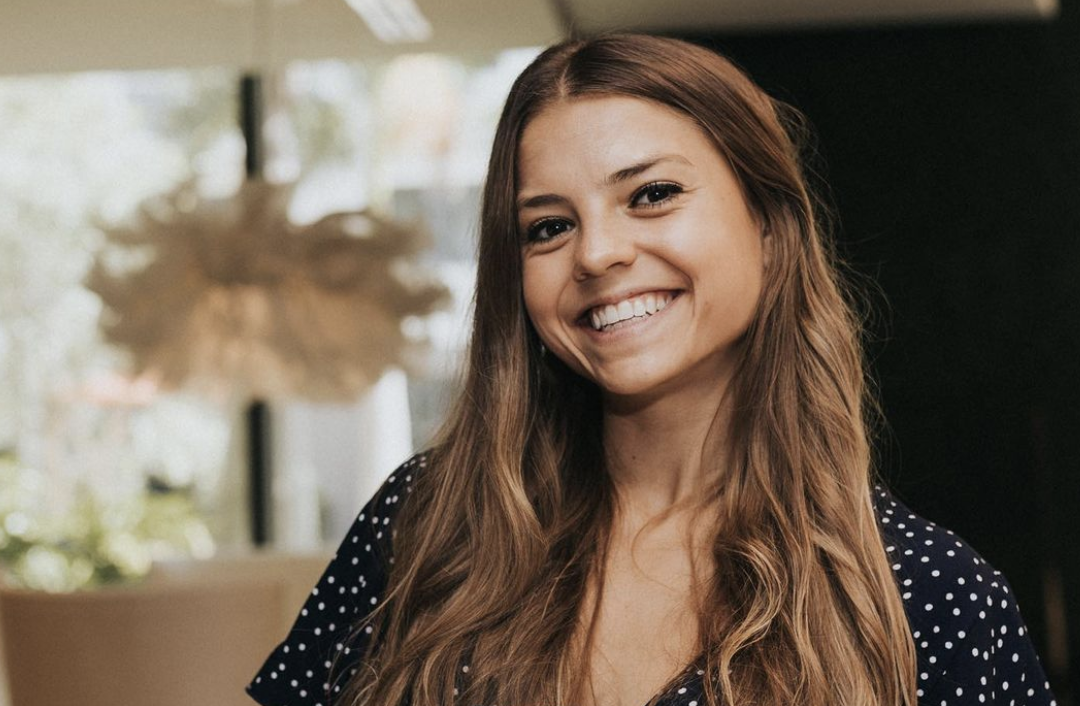 The FoodMinds upwaRD program is an industry-leading professional recognition and development program, elevating the voices of emerging nutrition communication leaders. This year's winners were selected for their expertise in translating evidence-based nutrition recommendations into exciting, engaging and accessible content in both traditional and social media channels.
Today, we hear from Dasha Agoulnik, a 2022 upwaRD winner!
How would you describe your job in one sentence?
I help people decrease bloat and inflammation by making nutrition digestible through gut health centered coaching and good for your gut protein powder.
What is the most surprising thing for people to learn about being an RD?
The most surprising thing (specifically with my population) is that many are surprised to learn how much stress affects their digestion. Eating in a stressed state can really affect how much gas or digestive distress we experience after our meal. I always recommend some breathing exercises before sitting down for your meals, and taking extra time to chew chew chew as a first step for improved gut health.
How did you become interested in nutrition and dietetics?
I was always fascinated with learning about how what we eat and how we move affects our bodies. I started with an undergraduate degree in Biology and got a lot of research experience. After studying Malaria, working on cultures for fish oil, and so many other bench lab projects, I knew I wanted to be more hands on in changing someone's life. I wanted to dive deeper into how diet affects disease so I got my masters in nutritional epidemiology while completing my Didactic Program in Dietetics. I'm a nerd about utilizing diet and lifestyle to improve overall health from the core!
Do you have any advice for dietitians thinking about getting into communications?
Get out there! Experience is everything, so if you think you want to get into communications – look for internship opportunities to get your foot in the door. And don't be afraid to fail. Take unpaid internships, talk to new people, move to new places, and make mistakes. It's not an easy season for you, but learning how to navigate all of these things will set you up with incredible skill sets for success.
What are three things on your bucket list?
This is hard, as I don't have concrete items. I ultimately want to help as many people as I can navigate nutrition and gut health. I have a passion for speaking and teaching, so being on TV or becoming a major speaker at events would be incredible. I love to travel, taste new cuisines, and experience different cultures. I also have a lot of your typical entrepreneur bucket list items: I want to retire by the time I'm 35, travel the world, and find the love of my life to share it all with!
Name a career accomplishment that you're most proud of – and why?
I'm a Type A female who was never satisfied, so for me – learning to feel proud of myself took a long time. The first time I felt a shift in my mentality, and understood what it was to feel proud was when I graduated from Tufts University's Friedman School. I spent 14+ years navigating my future to get to that exact moment. From Russian math school in 6th grade to internships every year, to SAT/GRE exam prep classes…I did it. And now, I felt like the world was opened with a white canvas that finally, I was in control of my life and future.
One thing people are surprised to learn about me is:
I used to compete in bodybuilding so I've grown quite strong …. and I'm also bilingual!
You can follow Dasha here: