Noticeable changes in the world's climate, consumer health, and contemporary culture, compounded by ever wider and more frequent use of mobile internet technology are shifting how consumers make food choices, and how food producers and marketers drive and facilitate those choices.
People are no longer solely relying on price, taste and convenience to make food decisions. Instead, they are increasingly affected by a range of values, or qualities that include their geographic location, the origin and production methods of the food they eat, environmental concerns related to agriculture, and food policies.
Additionally, there are an increasing number of food value chain stakeholders – many holding and espousing their own sets of values regarding food production, distribution and consumption – influencing consumers and producers across the food landscape. Collectively, these factors create new challenges, as well as opportunities, for all members of the food production and distribution chain.
A Changing Food Environment
Many of the factors driving the rise of food values are inevitable and immutable consequences of the evolving global food culture and agricultural environment. The high prevalence of obesity and its associated financial and societal costs impact food policy and production, and color the content of the recommendations provided by public health professionals and influencer. Climate change concerns and the food, fiber, housing and health care needs of a growing, and aging global population are forcing new values and criteria into the decision-making process of food producers and consumers. The United Nations predicts there will be 2.5 billion more people to feed worldwide by 2050. Technology-driven societies and social networks fuel 24-hour news cycles delivering a flow of information to an increasingly tribal, opinionated public—especially when it comes to food matters.
Research supports the shift in consumer thinking, attitudes and values. In fact, half of U.S. consumers reported they prefer evolving value drivers such as health and wellness, safety, and social impact and experience over traditional value drivers such as price, taste, and convenience in a 2015 Deloitte study on food values. Additionally, the 2017 International Food Information Council Foundation's 2017 Food & Health Survey revealed a significant segment of consumers care about values related to the ingredients, sourcing and production of their food when purchasing and consuming their food:
50% – important that foods are produced in a sustainable way
50% – knowing where their food comes is important
61% – recognizing ingredients listed on a package is important
41% – it's important to understand how their food is produced
The Food Values Project
Based on our analysis, and experiences in the global food industry, it's our sense that food values encompass interrelated social, political, regulatory, agricultural, and technological factors, and often reflect one's life experiences, education, income or culture. Food values are emerging globally and affecting the way food is produced, distributed, marketed, regulated, sold, and consumed. In an effort to characterize how food values are impacting food choice globally, FoodMinds, a consulting and communications agency specializing in food, beverage, nutrition, health and wellness, launched the Food Values Project™.
In order to understand how food values are influencing food choice globally, the agency utilized a panel of experts from the FoodMinds Global ExpertBench™ (GEB). The GEB is a thought leader network comprised of 20+ senior nutrition and communications experts spanning 20 countries and six continents. A questionnaire was developed using the DELPHI method which refined the research design and approach through a series of guided iterative steps. The FoodMinds GEB experts provided invaluable insight into food value issues in their respective countries as part of the DELPHI process.
Responses to the survey were provided by the GEB members in 14 countries and reflected their expert knowledge of their local political, social and cultural trends, consumer food behaviors, and their countries' food and nutrition affairs environment. For the purpose of analysis, countries were categorized by their Human Development Index (HDI) – very highly developed countries included Canada, France, Japan, Netherlands, Saudi Arabia, Spain, United Kingdom and United States. Highly developed countries included Brazil, China, Colombia and Mexico. Moderately developed countries included India and South Africa.
Food Value Factors & Attributes
The questionnaire featured a set of 14 overarching food value factors and corresponding attributes. Factors included economic values with attributes such as food costs and unemployment level as well as public health values with attributes such as obesity and malnutrition. For each attribute, the reach, an estimate of the percentage of the population whose food purchasing and consumption behaviors were affected, and impact, an estimate of the degree of positive or negative impact on food purchasing and consumption behavior, were gathered.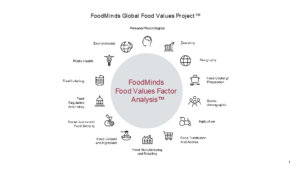 Additionally, for each factor, respondents were asked to select an attribute with the biggest impact on food purchasing and intake behaviors, with rationale for selection.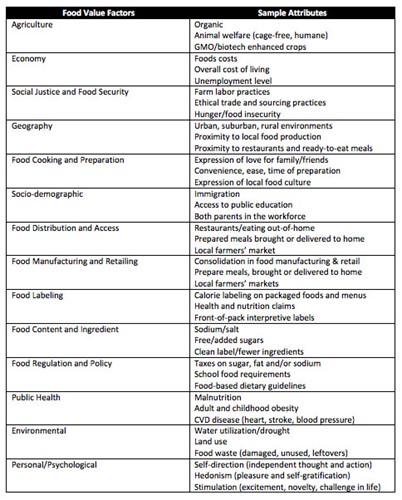 Project Results
Food Values Emerge
On a global scale, results of the questionnaire produced a set of primary and secondary food values. These factors affected the behaviors of the greatest percentage of the population, about 40-50%. While the predominant factors were similar from country to country, the defining attributes in each category varied among higher and lower HDI countries.
The primary set of food values included food distribution and access, food content and ingredients, and economy values; The secondary set of food values included socio-demographic, geography, and environmental values. Attributes more likely to affect higher HDI countries included easy access to grocery stores facilitating home-cooked meals, household income and food costs, urban environments, and concerns about food waste and sustainability. Attributes affecting lower HDI countries included urban migration, food costs and overall cost of living, and changing family dynamics impacting food choice, prep and eating patterns.
Greater Impact in Less Developed Nations
Upon review of the percentage of populations affected by food values, food values are estimated to impact a greater proportion of people in less developed nations. This holds true especially for the following food values: economy, food distribution and access, environmental, and social justice and security. One of the most notable differences is found when looking at economic attributes with almost double the percentage of people in moderately developed countries being affected compared to those in very highly developed countries.
Differences in Food Distribution and Access
Overall, looking at attributes affecting food distribution and access, more developed countries have infrastructures that provide access to a wide range of fresh and prepared foods. The biggest difference is found in terms of access to fresh, whole foods while the access to a variety of processed, packaged foods is fairly consistent among all countries. Interestingly, very highly developed nations are estimated to have the greatest level of easy access to goods of minimal nutritional value.
Differences in Food Content and Ingredients
Globally, food content and ingredients are a food value estimated as having a consistently strong role in driving purchasing and consumption. Across the countries represented, about 50-60% of the total population are impacted by fruit and vegetables, dairy, meats, and poultry – either as whole foods, or ingredients in processed foods. Similarly, slightly less than half of the population is perceived to be affected by attributes such as eggs, saturated fats, sodium/salt, and free/added sugars.
Project Implications
Stakeholder Presence Increases
Based on the expert knowledge and opinions gathered via the Food Values Project™, food values are driving changes in the food environment and redefining the roles of traditional players in the food chain – such as producers, food manufacturers, regulatory agencies and retailers. These values are also creating opportunities for new stakeholders focused on improving or changing inputs to production, social justice practices, environmental quality, water and resource utilization, and waste reduction.
Food companies and producers need to be aware of these new stakeholders that are motivated by a desire to improve food systems, increase access to local and more sustainable foods, and increase the availability and affordability of whole and fresh foods. As well as take time to understand what's important to them in order to produce successful products. These new food values, and the stakeholders, consumers, retailers and competitors that deem them to be important, play an important role in developing strategic plans for deploying effective food and beverage innovation, production, and marketing efforts.
A New "Value-Driven" Food Chain
The traditional food value chain was comprised of suppliers, producers and distributors extracting incremental financial value as they moved products from farms to plate. The new values-driven food chain is defined by the addition of characteristics, behaviors, commitments, and qualities that add perceived value to foods and beverages. These new incremental values can be created directly by traditional players such as producers, manufacturers or retailers, or by partnering or leveraging the expanded array of stakeholders that have emerged within, or alongside the food chain.
During product development, companies need a comprehensive plan to think about the role that relevant stakeholders might play in shaping the understanding and perceptions of their new product or new technology. For example, values related to food policy and regulation have caused a shift in school meal requirements. A company manufacturing products that may potentially be sold in schools now needs to consider lawmakers, lobbyists, and food policy advocates as stakeholders in their value chain.
While critical stakeholders will differ depending on company or product, a visualization of the contributors to, and stakeholders in the new value-driven food chain is displayed below.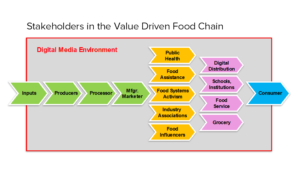 The Food Values Project™ in Practice
According to Dr. Mitch Kanter, FoodMinds Chief Science Officer and Director, Global ExpertBench™, the outputs from the Food Values Project™ have great implications for research and development teams.
"Understanding gleaned from the Food Values Project™, harnessed appropriately, can serve as a key to developing strategies and tactics for more effective and efficient operations within the new value-driven food chain," he said. "In an evolving world market, where the motivators that have long driven purchasing decisions are changing rapidly, greater understanding of the prevalent stakeholders and values that drive decisions in different regions can provide advantage to food scientists, product developers and marketers."
Overall, understanding how "physical performance characteristics" and "qualitative food values" interact and affect consumer behaviors is advantageous when mapping out corporate R&D strategy. Recent global examples illustrate how companies should begin thinking about food values and their effect on food behaviors. For example, in Brazil, meal times are seen as social occasions to be spent with friends and family, and it would behoove a product developer to take these types of values into account when creating new food items for the Brazilian market.
"In Western Europe, where food scandals have rocked the continent over the past 20 years (i.e., horse meat being sold as beef in France; the mad cow outbreak in England; the discovery of pesticides in food products in Belgium), consumer confidence in the food supply chain has eroded," Kanter continued. "Nutrition labeling on food packages and other tactics that make it easier to identify the origin of food products are extremely important."
The key takeaway is that understanding of food values driving consumer behaviors – and the stakeholders and cultural forces shaping these values is critically important to success in the value-driven food chain. Companies who design a comprehensive strategy to listen and respond to these stakeholders and values, are likely to find success in the ever-changing food environment.
Grant Prentice, is a senior vice president at FoodMinds and the lead of our Strategic Insights team. This post was originally published in the February issue of The World Of Food Ingredients.