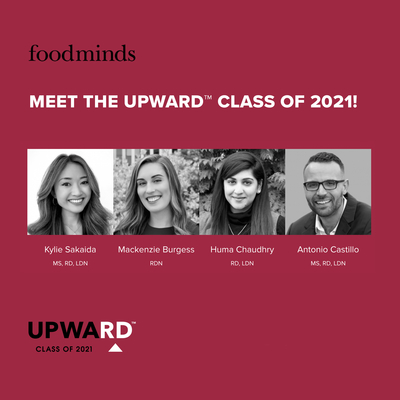 On World Social Media Day, four up-and-coming RDNs are recognized for their contributions to the nutrition communications industry 
CHICAGO (June 30, 2021) – FoodMinds, a leading food and nutrition consultancy with more than 15 registered dietitian nutritionists on staff, announces its 2021 upwaRD™ class. As an industry-leading professional recognition and development program, upwaRD is elevating the voices of emerging nutrition communication leaders. This year's winners were selected for their expertise in translating evidence-based nutrition recommendations into exciting, engaging and accessible content in both traditional and social media channels. 
"FoodMinds is thrilled to be a destination for registered dietitian communicators. We created the upwaRD program to recognize the important role credentialed nutrition professionals play in food and nutrition communications and to showcase the positive impact they're having across social platforms," said Erin DeSimone, MS, RD, LDN, FAND, senior vice president, who co-leads FoodMinds with Michelle Kijek and co-founder Laura Cubillos, RD. "FoodMinds is excited to work with these up-and-coming nutrition influencers and we can't wait to see what they do next." 
FoodMinds' upwaRD honorees are emerging and forward-thinking registered dietitians and registered dietitian nutritionists (RDs/RDNs) who demonstrate creative, credible and effective nutrition communication.  
Meet the upwaRD Class of 2021 
Antonio "Tony" Castillo, MS, RD, LDN combines sports performance nutrition concepts with everyday lifestyle modifications – and a healthy dose of humor – to coach clients and social media followers alike.   
Mackenzie Burgess, RDN is a recipe developer and blogger behind Cheerful Choices. Certified in culinary nutrition education, Mackenzie focuses on simple recipes with customizable ingredients to meet personal dietary needs and preferences. 
Kylie Sakaida, MS, RD, LDN is harnessing the power of TikTok and Instagram to make healthy eating fun and easy. Kylie's social media storytelling resonates with content that's informational, digestible and inclusive.  
Huma Chaudhry, RD, LDN is the creator of the Dose of Nutrition blog, celebrating nutrition that honors body function, diversity and mindfulness. Huma works with clients of all ages and health concerns including weight management, diabetes, heart disease, autoimmune disorders and disordered eating.  
"The landscape of food and nutrition communications is constantly evolving," added Jean Curran, MS, RD, account supervisor, FoodMinds, and upwaRD program lead. "Today's most effective nutrition education is an expert blend of art and science, where evidence-based information intersects with creative expression that's accessible and shareable, whether that's through compelling copy, eye-catching design or engaging video content."  
About FoodMinds 
At FoodMinds, we put passion into practice by harnessing science, public affairs, food values and communications to meet our clients' business and public health objectives. We are the only agency with more than 15 registered dietitians on staff and a Global ExpertBench™ of nutrition science, policy and communication professionals around the world.  
FoodMinds is a division of Padilla. Between FoodMinds and Padilla Food + Beverage, we are happily consumed by food, all the time. Together, we're re-imagining why, what and how consumers eat and drink – to build a stronger, flourishing future for all. We are building, growing, and protecting brands and reputations by creating purposeful connections with the people who matter most to our clients. Together, our services span the ecosystem of food, beverage and nutrition – from research and insights to branding, creative and digital to marketing communications, and our unique culinary center.   
We work with more than 30 leading commodity boards, food companies, brands and associations in the U.S. and around the world, including several Fortune 500 companies. Contact us to learn more.