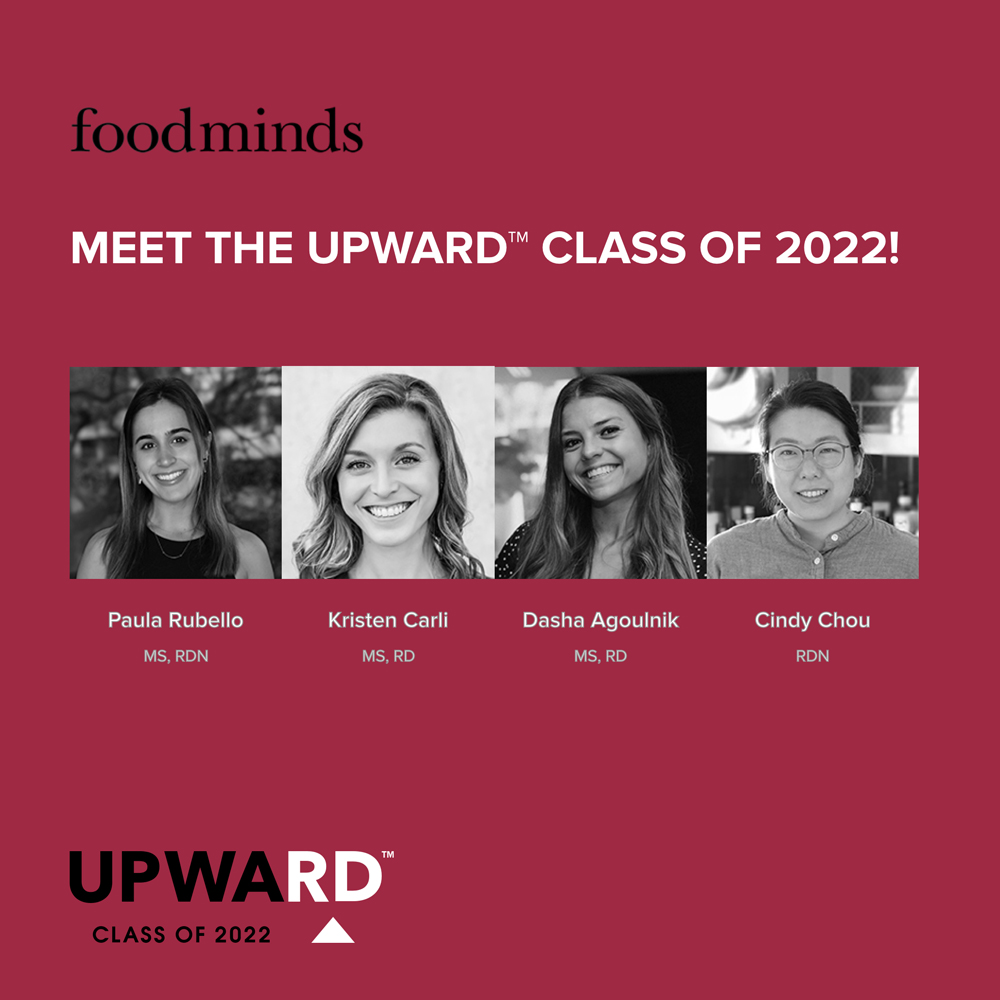 On World Social Media Day, four RDNs looking to advance their communications careers are recognized for making great strides in the food and nutrition community
CHICAGO–FoodMinds, a leading food and nutrition consultancy with more than 20 registered dietitian nutritionists (RDNs) on staff, announced its 2022 upwaRD™ professional recognition class. Launched in 2018, upwaRD™ is an industry-leading development program that showcases RDNs in the initial stages of their careers who have already made significant contributions in the food and nutrition field. This year's winners were selected for the key role they play in changing the way consumers view, think and talk about food, along with their expertise in translating evidence-based nutrition recommendations into exciting, engaging and accessible content.
"At FoodMinds, we believe in the value of RDNs – and that's why we employ more of them than any other communications agency," said Erin DeSimone, MS, RD, LDN, FAND, senior vice president, who leads FoodMinds with co-founder Laura Cubillos, RD. "Through upwaRD™, we're elevating the voices of up-and-coming nutrition communications leaders and offer them the opportunity to connect with seasoned nutrition communications professionals, learn about partnering with food and beverage brands and receive recognition on FoodMinds' digital and social media channels."
FoodMinds' upwaRD™ honorees are emerging registered dietitians and registered dietitian nutritionists (RDs/RDNs) who demonstrate creative and effective communications, have proven experience in traditional and/or social media, create credible and relevant content and continually build on new trends in the food and nutrition landscape.
is a dietitian, chef and content creator behind The Sound of Cooking® and HealthyFeels.com. She is the founder of Cancer Nutrition in a Bowl™, a digital platform helping individuals feel energized and confident eating the foods they love while optimizing cancer recovery.
Dasha Agoulnik, MS, RD is a nutrition researcher and founder of CorePerform, a plant-based protein that improves digestive and gut health. She is the 2021 Friedman prize winner for her patent pending plant-based protein that elicits the same muscle building effects as whey, without the digestive upset.
Kristen Carli, MS, RD is the owner of Camelback Nutrition & Wellness, a private nutrition practice and consulting firm. She was selected as a Have A Plant® Ambassador for the Produce for Better Health Foundation (Padilla; FoodMinds client), helping to promote the health benefits and importance of consuming fruits and vegetables.
Paula Rubello, MS, RDN specializes in functional and integrative nutrition at Culina Health, a virtual nutrition private practice. Previously, she worked in prestigious hospitals and organizations in the United States that contributed to her extensive knowledge in the field of nutrition.
"Credentialed nutrition influencers are food-loving innovators, critical thinkers and change makers who possess a strong desire to positively impact our ever-evolving health and nutrition landscape," added Chelsea Elkin, MS, RD, senior director, FoodMinds, and upwaRD™ program lead. "Our 2022 upwaRD™ class demonstrates innovation, dedication and excellence in nutrition communications, while also having the potential to change the way consumers and brands view, feel and talk about food."
About FoodMinds
At FoodMinds, we put passion into practice by harnessing global scientific affairs & communications; global food & nutrition affairs; influencer & stakeholder engagement; and healthy, sustainable food systems strategies to address business and public health objectives. FoodMinds is a collective of passionate nutrition experts — policy wonks, trend watchers, dietitians and storytellers — that helps organizations navigate a complex food system, from farm to table, to grow their business and nourish the world. The only agency with nearly 20 registered dietitians, as well as a Global ExpertBench™ of nutrition science, policy and communication professionals, we're boldly transforming the way the world thinks about food, nutrition and health to help our clients tell a better story.
FoodMinds, a division of Padilla, works with more than 30 leading commodity boards, food companies, brands and associations in the U.S. and around the world, including several Fortune 500 companies. Between FoodMinds and Padilla Food + Beverage, we are consumed by food. Together, we're re-imagining why, what and how the world eats and drinks – to help build a stronger, flourishing future for all. Our services span the ecosystem of food, beverage and nutrition – from scientific research, market insights and nutrition affairs, to branding, digital, and integrated health professional and consumer marketing communications.
Contact us to get started.